Last updated on
Happy Saturday!
So one thing we get asked about here at Carrot from newer investors is how to find deals and how to close them.
I know whenever I'm trying to really understand and learn something I like to see a real world example of someone successful doing that thing… from start to finish… so I can kind of "look over their shoulder" while they're doing it.
A lot more effective then just using hypothetical "deals" in courses and stuff. Right?
Your Lucky Day
So, fellow InvestorCarrot member Rob Russell of Portland, Oregon agreed to hop on and walk through a specific deal he did recently… we'll call it the "Newberg House" from start to finish.
He shows…
1. The exact marketing postcard (and list) he used to find his deal (and the 65 other ways he finds deals in his market)
2. His deal negotiation and closing tactics (I love his and his wife Kristi's negotiation style, really low pressure) that closed the deal with a seller who actually received this postcard THE YEAR BEFORE and finally called Rob and Kristi to make the sale.
Including… 
8 PAGE CASE STUDY REPORT

of the

EXACT offers Kristi & I developed for the Newberg house

.  I explain in GREAT DETAIL the entire process, and even how we handled his objections!
3. How he funded this deal (and how he funds all of his deals) with private lenders (he'll give you his actual deal spreadsheet he uses to relay the deal to private lenders in a way it's so effective it's crazy)
How he sells his deals on lease option quickly (he closed one last week in Albany, OR that sold in less than a week w/ 2 tenant buyers with $10k-$15k each on hand for the non-refundable deposit)
This module we'll walk through…
His selling proces
His Craigslist ads that are working GREAT to find highly qualified tenant buyers for his lease option deals
How he sells via lease option effectively (and legally)
And more!
So How Do You Get Access To This Full Training? (FREE, and here's why)
Normally this type of training would be $300 or so more.
Heck, just the downloads alone… not to mention the actual 4 training videos with Rob and I… would be worth that if you put them to play in your business.
But I need help… and want to pass along access to this training for our InvestorCarrot members in exchange for your help to…
Help Me Fire My Brother!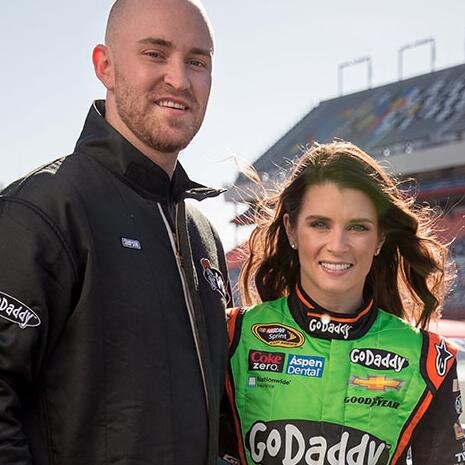 My brother Kyle, who is a full-time Carrot team member, is a finalist in this Godaddy contest that was featured on the Super Bowl this past month.
We were both flown to Charlotte, NC by Godaddy where Kyle pitched his "side business" Athletes Brand to Danica Patrick in her race car going 125+mph around Charlotte Motor Speedway.
Here's a picture of him pitching his business idea to Danica!
The winner of the contest has to QUIT THEIR DAY JOB and Godaddy will pay them $50k to pursue their passion business full-time for the next 6 months to get it off the ground.
(I wrote a blog post about this whole experience in more detail over on my personal blog if you want to check it out << )
Yes, it'll suck losing Kyle from the Carrot team… but I love it when people pursue things they're passionate about… and this is a HUGE opportunity for Kyle to do just that.
How You Can Help (And Get Full FREE Access To The Training Above)
Your job is simple.
We just need your votes and support.
The contest for Kyle ends March 2nd. It's coming up FAST.
And from every indication… he's probably in 2nd place… and we need MASSIVE HELP from our Carrot community to get him into the lead so he can pursue his dreams.
When was the last time you had a chance to truly help someone else reach their dreams this easily?
We need your votes and your support.
So, here's all you need to do to get this entire "real world" training I walked through above

for free

.
We'll waive the $199 fee for the training we'll likely charge later.
Step 1: Help Kyle today by voting for him on this page: Vote Here <<
Step 2: Share that vote page with your Facebook friends and tweet it out if you have a twitter account! Tell them to support Kyle and vote!
Step 3: Schedule it in your calendar to vote for Kyle everyday until March 2nd (when the contest ends. Danica Patrick will announce the winner live on TV. So make sure to save this link so you know where to vote everyday: http://www.godaddy.com/kyle )
Step 4: To get access to the full "real world deal" training above and the marketing piece Rob uses, his private lender recruiting process, his negotiation strategies, how he sells his properties fast via lease option (and his specific craigslist ads for selling them fast)… just VOTE for Kyle first and share it on your Facebook account… then submit the form below so we can verify you voted and shared it. Then we'll send you the link to the full training… no catch, no charge, nothing.
You get a killer training that no one else has ever seen… and you also get the good karma of helping someone else reach their dreams.
You never know when your big chance to chance your dreams will come up… and when it does you'll need a community of people to help you get there.
This is Kyle's chance… so help me FIRE MY BROTHER!
We appreciate your support! And enjoy the heck outta this training!!!
FREE TRAINING OFFER NO LONGER AVAILABLE – TIME EXPIRED